Top East Orange Line Striping Services
Want your parking lot or driveway to stand out? Hire our line striping service in East Orange. 
At Blacktop New Jersey, we will make your parking lot or roadway have a clean and crisp line painting. We can help evaluate your blacktop area and offer affordable, comprehensive service.
Contact us today and get:
A reliable East Orange parking and roadway striping service

High-quality pavement markings

Free line striping estimates for residential or commercial customers
Superior Asphalt Line Striping For East Orange Home And Business Owners
Pavement markings are essential when maintaining or repairing asphalt parking lots. This service helps ensure the safety of motorists by properly communicating roadway directions. Hiring a professional blacktop paving company in East Orange is crucial to avoid mistakes and bad layouts. 
Blacktop New Jersey has the experience to deliver the line striping and painting you need. Our team has the skills to create perfectly straight and correctly placed lines. We put the safety of our customers in mind, so we ensure beforehand that the layout is designed safely.
Line Striping And Painting Process
In order for our customers to have the best line striping and painting, we follow these steps:
Step 1 –

Prepare the surface of the asphalt driveway, parking lot, sidewalk, asphalt over concrete, or roadway. We will remove any dirt and debris that could hinder the maintenance of the asphalt surface.

Step 2 –

It is also ideal to do asphalt repair for potholes and seal any cracks before doing this service. Blacktop New Jersey offers asphalt repair solutions to repair damaged asphalt.

Step 3 –

Blacktop New Jersey is an experienced pavement marking contractor servicing the East Orange area and nearby communities. Our paving experts will complete the re-striping professionally with a strong safety factor in mind.
We offer local parking lot striping services in East Orange, New Jersey. Call us today to get your free line striping estimate.
East Orange Line Striping And Painting Services We Offer
Numbers and name stencils

Curb painting

Custom made signs

ADA signs and upgrades

Parking stall and stencils

Markers for raised pavement

Loading and unloading zones

And more!
Frequently Asked Question About Lot Striping in East Orange
What are pavement markings?
Pavement markings are road signs that communicate traffic directions. These are typically the white and yellow loans, arrows, reversible lanes, edge lines, and HOV lanes among others.
Is striping my business parking space necessary?
Absolutely! East Orange has strict codes and fines when it comes to traffic violations to promote safety within the community and to allow emergency personnel quick access to establishments. Line striping and painting will help avoid such traffic violations and fines.
The pavement marking for your East Orange business not only leaves a professional impression, but also helps in giving the customers a positive experience when coming in and out of your business establishment. It helps in easily identifying areas where vehicles can park or not. 
Blacktop New Jersey is happy to provide line striping services that will suit your requirements. 
Call For a Quote:
(346) 234-6973
How long does painting or re-striping take?
The timeframe for a line striping or re-painting job depends on the size of the project. In most cases, our line striping team only takes a few hours to finish the work. We have professionals and experienced members that know all about asphalt, especially line striping and sealing that will make sure the work is finished in a timely manner and correctly.
How often should I have my parking space or driveway re-striped?
What we recommend to our valued customers is to have their blacktop driveway, sidewalk, or asphalt over concrete maintained and repaired for at least three to four years. That involves re-striping the parking lot and putting asphalt sealer on cracks.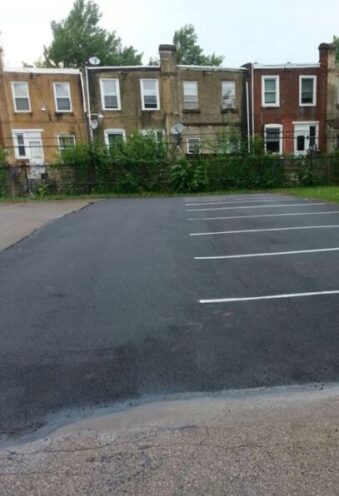 East Orange, New Jersey Paving Contractor You Can Trust For Your Striping Needs
As a paving company based in East Orange, New Jersey, we have delivered numerous high-quality blacktop paving, asphalt repair and maintenance, line striping, and asphalt sealcoating to local communities. The line striping services we offer help make it clear for motorists and pedestrians to understand: 
Where traffic flows

Where the bicycles lanes are

When it is safe for drivers to change lanes

When motorists should yield

Where it is safe to park vehicles
To prevent accidents from happening, establishing a clean and correct road layout for both pedestrians and drivers to follow is essential. Blacktop New Jersey is the blacktop company you need.
Please contact us to inquire further about our blacktop line striping, asphalt seal coating, blacktop paving, and more.
172 William St, East Orange, NJ 07017